The Singing Storyteller
The deep baritone voiced singer was born in Kinglsand, Arkansas in 1932. He was the fourth of seven children and a devoted brother and son. Cash's passion for singing is rooted from working in the cotton fields at 5 years old. The young boy would sing along with his family to pass the long days. Having survived the Great Depression, his sympathy for the poor and working class would be a life-long inspiration for his songwriting.
Young Cash lost his best friend, his older brother, in a tragic table saw accident. This instance would dominate his conscience for the rest of his life. His brother was dedicated to the bible and the gospel, which also became a a driving force for Cash. The singer would go on to cross multiple music genres including Rock, Gospel, and Country.
Rock and Roll Pioneers at Sun Records
Johnny Cash enlisted in the U.S. Air Force on July 7, 1950. He was assigned to the 12th Radio Squadron Mobile in Germany- as a morse code operator. This is where he joined his first band, "The Landsberg Barbarians." Music was just starting to become a career for Cash, In 1954, he moved to Tennesse with his first wife, where he studied to become a radio announcer. The first recording he wrote, sang, and produced was at Sun Records, "Hey Porter." Cash met Elvis Presley and Jerry Lee Lewis in 1957, when they dropped into the studio- this would set the course for his career. 
Cash wrote his first number one hit, "I Walk The Line," shortly after the meeting. Once he switched labels to Columbia he wrote "Don't Take Your Guns To Town," and started recording Gospel tunes. He became known as the "undertaker," for his affinity to wearing black clothes. Cash explained that the black clothes were simply easier to keep clean-and lasted longer.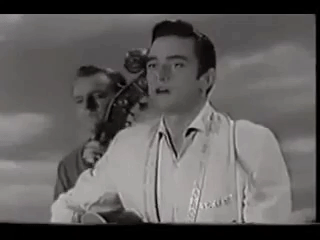 Continuing on with success, Cash released multiple records into the 1960s along with classic staples like "Ring of Fire." Bitter Tears (1964) was a concept album and an intrinsic look into Cash's songwriting- it was about the plight of Native Americans. Cash's narration and singing was combined for Sings the Ballads of the True West (1965).
In 1967, he won his first Grammy with future wife June Carter for the duet, "Jackson." Johnny Cash at Folsom Prison (1968) followed with Johnny Cash at San Quentin (1969). The Johnny Cash Show began in 1969 and had all of his contemporaries and musical inspirations perform on his show, in Nashville.
The Man In Black
The 1970s eternalized Johnny Cash as "The Man in Black." He performed usually, and still, in black clothing. Most of his country singing friend where wearing rhinestones- so this was a stark change.
"He wore 'black' on behalf of the poor and hungry, on behalf of the prisoner who has long paid for his crime, and on behalf of those who have been betrayed by age or drugs," sang Cash in the "Man in Black."
In 1980, Johnny Cash became the Country Music Hall of Fame's youngest inductee at the age of 48. He starred in a few television movies and shows like, The Highwaymen with Waylon Jennings. During the 1980s he continued to record and focus on his recovery from alcohol and drug addiction.
The Rock And Roll Hall of Fame
The diversity that Johnny Cash was able to master was recognized by the American Rock and Roll Hall of Fame on January 15, 1992.  He was the only Country artist to be inducted as a "performer." He performed "Big River," during his induction ceremony. His song "I Walk The Line," was recognized to be one of the songs that shaped the life of Rock and Roll.
Johnny Cash passed away on September 12, 2003 in Nashville, Tennessee. The icon sold more than 50 million records across every genre. His legacy as been engrained in music history as a songwriter, singer, performer, musician, poet, and all around bad ass.