Virginia Grohl, #1 Rock Star Mom
Dave Grohl and his mother, Virginia sat down with Stephen Colbert to discuss what it's like to be a "rock star mom." She recently authored and published a book about her sentiments on the topic, From Cradle to Stage Stories From the Mothers Who Rocked and Raised Rock Stars. Virginia interviewed a few rock star moms including Kurt Cobain's mother to shed light to the life of a mother of a famous musician.
Being a parent is the hardest and most rewarding role a person can take on, but Virginia handled the task with grace. The segment begins with a few embarrassing moments for Dave, who sat beside his mother. The Foo Fighter's front man turns red and stares at the crowd when Colbert reveals that mama Grohl also brought along his 6th grade report card…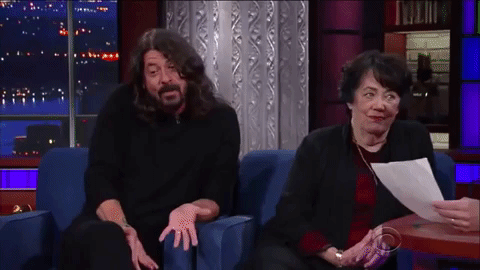 Needs Improvement
Mostly every behavioral assessment Dave Grohl had on his 6th grade report card was determined to "need improvement" or was "unsatisfactory." "I gotta be honest, I was kickin' ass up till the 1st grade and then it all just went downhill," laughs Grohl. Dave explains that his focus and energy went to playing music and "everything else went out the window."
Virginia was a public school teacher fo 35 years. The rock star acknowledges that since his mother had the broad perspective of seeing generations of kids struggle within the public school system, she knew that Dave was not born to be a scholar. When Dave was 17, he had the opportunity to go to Europe with his band, Scream. She said "I almost wanted to go with him," on the basis that she wanted to adventure as well. Goes to show what kind of mom Virginia is!
Now, Virginia kicks it heavy with her rock star son. Grohl told Colbert that she could be found backstage kickin' it with Green Day having a beer!