Under Her Spell
Tommy and The Shondells released Crimson and Clover in 1968 to an amazing American reception. The psychedelic title track reached #1and became a classic anthem for an entire generation of dreamers. The song had simple inspirations. Tommy James' favorite color was crimson and his favorite flower, you guessed it- the clover.
"I had no idea what it meant, or if it meant anything. They were just two of my favorite words. And Mike Vale and I – bass player – actually wrote another song called 'Crimson and Clover.' And it just wasn't quite there. And I ended up writing 'Crimson and Clover' with my drummer, Pete Lucia," explained Tommy James.
Kenny Laguna, a songwriter and producer, worked with Tommy James and The Shondells and Joan Jett. His start as a solo artist lead him to play keyboards and sing backup vocals for Tommy James, then eventually he became a producer. When "Crimson and Clover" was being produced, songs on the FM were all being cut down from psychedelic operas to shorter versions. For Laguna, he actually had to make the 2 1/2 minute track longer. The band spliced together edits to make the song longer for radio play– if you listen to that version you can tell!
Ah
I wish she'd come walking over
Now I've been waiting to show her
Crimson and clover
Over and over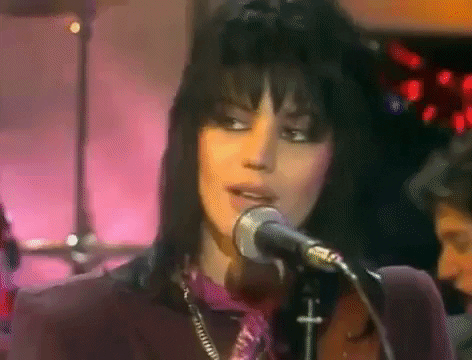 Joan Jett and The Blackhearts covered "Crimson and Clover" in 1982, following her anthem, "I Love Rock and Roll." The song reached #7 on the charts and was included on the band's debut LP. When Joan Jett was inducted into the Rock and Roll Hall of Fame in 2015, she sang the hit cover once again- just as powerful as ever. Tommy James joined her on stage and it was a display of true musicianship.
The song has been covered countless times but when the original songwriter joins you on stage to perform their tune, you can bet you have the most respected cover!
As far as the 1983 performance, Jett inspired girls around the world that you can be gorgeous and talented. The Blackhearts sang and played along with her turning the psychedelic "Crimson and Clover" into an adrenaline filled rock jam.