This Is The Greatest Thing You'll See All Day!
I'm sure that you already know just how much of a class act Foo Fighters frontman Dave Grohl is. When it comes to the nicest, most generous rock stars in the world, Dave might arguably be the greatest. He's the kind of guy that'll sign just about any autograph in the pouring rain, or stop to talk and even take pictures with anybody for just about any amount of time. He's just one of the greatest, pure and simple.
This much was proven at a recent show in Kansas City, MO when Dave stopped a Foo Fighters concert to bring a talented young man by the name of Collier Cash Rule up to the stage. Collier is a 10-year-old guitar player who is well versed in all things Metallica, and when young Collier announced this to the whole crowd, Dave's reaction was just priceless!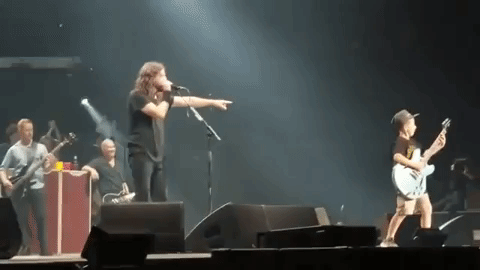 In fact, Dave saw this as an opportunity to jam with young Collier. So, Dave asked him what songs he knew, and when Collier answered "Enter Sandman", Dave, again, had the best reaction, and you can probably guess what happened next…
See for yourself!