How You Doin? This is Humpty Dumpty
The epic 1991 Saturday Night Live skit starts out with a little boy preparing for bedtime. His mother gives him the decision to either read a book or listen to his "new tape." Of course, he pops "Kiddie Metal" into his boom box then in rushes Axl Rose (Adam Sandler) and Slash (Kiefer Sutherland). Complete with fog machine and "20 bone-crunching tunes" this kid is living the rock and roll dream. The impressions will melt your face off.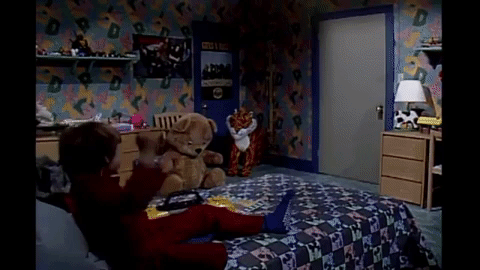 The Dueling ABC's
A few tracks in and Sebastian Bach along with Rachel Bolan come in to finish off the ABC's. The kid is not even acting at this point he's just enjoying his front row seat to the most hilarious rock show ever. Sandler and Bach continue to duel out the ABC's. Bach exemplifies his insane vocal range as he busts out a classic nursery rhyme. Barely anyone in the scene can keep a straight face as they try to maintain the metal vibe. Meanwhile, Bolan and Sutherland shred in the background as the scene concludes with a thrash showdown of breaking lamps and tearing up teddy bears.
"I said W, X, and Y and Zaayy!" sings Sebastian Bach.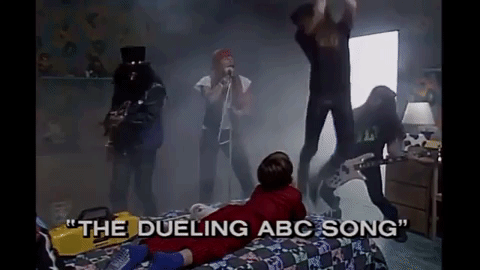 But Wait, There's More!
The infomercial offers a few extra discs that only a real metal fan would add to their collection. The additional disc is Slash Performs Mother Goose, which includes a "Humpty Dumpty" cover you can pick up at "Record World" and "Holly Hobbit." You can also pick up an Axl Rose and Sebastian Bach duet of the "Dueling ABC's" while you're at it. These children's nursery rhyme renditions need to become a reality!