Day On The Green
Put together by promoter Bill Graham, Day on The Green was an annual concert in Oakland, CA. The shows were held at the Oakland Coliseum and began in 1973- lasting into the early 1990s (later reviving in 2015). In the heat of power rock/metal and glam rock of 1985, the German power rock band, Scorpions, took the stage before Ratt, Y&T, Metallica, Rising Force and Victory.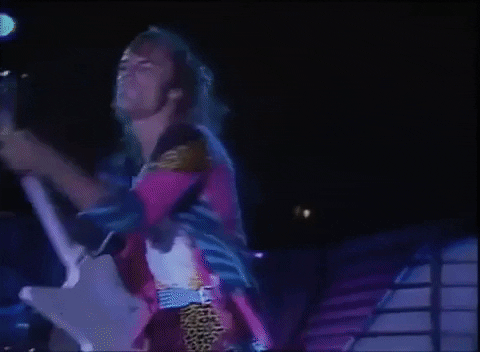 One of Scorpion's goals since their formation in 1965 was to "conquer the US." Singing in English, the German band combined their powerful talent and affinity towards popular music at the time to fit that of British and American trends. Scorpions first visited the US in 1979. Guitarist Rudolf Schenker recalls the reaction to their band's arrival,
"They said, 'Hey, what kind of crazy guys are these?' (laughs) We were already exotic, with a different view, and we also play our rock music with a little bit of an ethnic touch. You'll notice that Americans come from the blues side, whereas we come from the classical side, which is different."
After visiting America, the band started playing with a heavier sound. In 1985, they travelled to California to perform at Day On The Green in Oakland. Their set list was quite long and had their raging hits at the time. Among 17 songs they performed were, "Rock You Like A Hurricane," "No One Like You," and "Still Loving You." Frontman Klaus Meine and his Scorpions bandmates, Rudolf Schenker (guitar), Matthias Jabs (guitar), Francis Bucholz (bass), and Herman Rarebell (drums), delivered the epitome of European metal meets American style– pure power ballad glory.
The most glorious of rock's power ballads are woeful but electric. One of those glorious ballads is Scorpions' "Still Loving You." The track was originally released a year prior to the On the Green concert, in 1984. The song charted #64 in the US and was included on their album, Love At First Sting. 
The song was a cry out to all lovers and despite it's chart rating, became an anthem of the 1980s and showcased the style of 1985. "Still Loving You," reached #1 in France where the song was reportedly to blame for a baby boom! Rudolf Schenker has said,
"We were on a TV show in France between recordings, and the host, a very famous guy that interviews us each year, goes, 'Hey, guys, you know that you are responsible for the baby boom in '85.' We were laughing like crazy! And yes, it's been measured by the government. It's unbelievable, I tell you."
Their performance of "Still Loving You" in Oakland was majestic, sweaty, and Klaus Meine nearly broke every glass object within a 5 mile radius. His voice was certainly at it's prime and has held that energy now into 2019. Scorpions are still making new music and have never stopped performing! Look back at one of their best shows…