It Was Written LIVE
"American Woman," is among the most memorable anti-war songs of the flower power era but there wasn't any monotonous lyric writing involved. It all started in Ontario, Canada when Randy Bachman had replaced a string on his guitar and was attempting to tune his guitar. While on stage before the audience, Bachman is playing various tunes trying to get the sound on his instrument just right. As the fans wait, they talk amongst themselves and move about the venue. Suddenly, Bachman hears more than just a normal strum.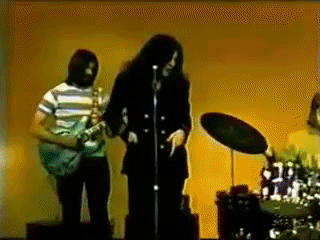 Imagine being in the crowd when this happens…
In the words of Randy Bachman, "And all their heads snapped back. Suddenly I realize I'm playing a riff I don't want to forget, and I have to keep playing it. So I stand up and I'm playing this riff. I'm alone on stage." He talks about the spontaneous moment when the audience hears the riff of "American Woman" for the first time. Frankly, that was the first time anyone, including Bachman himself, had ever heard the iconic anti-war song. At the time, the band and the fans had a major conflict with the Vietnam war. The Guess Who and a good portion of the crowd were drafting the war in Vietnam from escaping the U.S. to the safety of Canada.
All Together Now
While Bachman, was on stage trying to birth "American Woman," the rest of The Guess Who rush to accompany the guitarist. Burton Cummings starts improvising lyrics, "American woman, stay away from me." The band found a kid in the crowd who had recorded the performance and they were able to officially record the classic with reference from the tape. Eventually The Guess Who ended up playing the song at the White House for royal guests in 1970. Cummings now reflects, "It left a bad taste in my mouth…They wanted a Commonwealth act when Charles and Anne went there. We were the token Commonwealthers."