It Would Be Crazy To Imagine The Beatles Without Abbey Road.
---
The last recorded album by arguably the best band in the history of music. "Abbey Road" is significantly important because it is a musical masterpiece. Even the actual Abbey Road crosswalk in London wouldn't be famous if it wasn't for this record. It has become everyone's personal favorite album of all time; that shows a more developed Beatles than Revolver or Sgt. Pepper for that matter.
---
1. George Martin Had to Be Convinced to Produce It
---
After the sessions for "The Beatles" and "Let It Be," George Martin, who happens to be their longtime producer, was through with the group. But after Pal McCartney pleaded with him, he agreed to work with them once more, but for a condition, that he would be in total control in the studio, just like old times.
"It was a very very happy album. Everybody worked frightfully well, and that's why I'm very fond of it." – George Martin
---
2. The Title and Cover Happened Because They Were Lazy
---
"Everest" was supposed to be its working title, an inside joke about the brand of cigarettes Engr. Geoff Emerick usually smoked. And Mount Everest was the intended cover photo of the album, but they were too lazy to make the long journey. Later on, McCartney suggested that the album title should be after the street on which EMI Studios was located. It only took 30 minutes in total for them to have their photoshoot in the nearest crosswalk.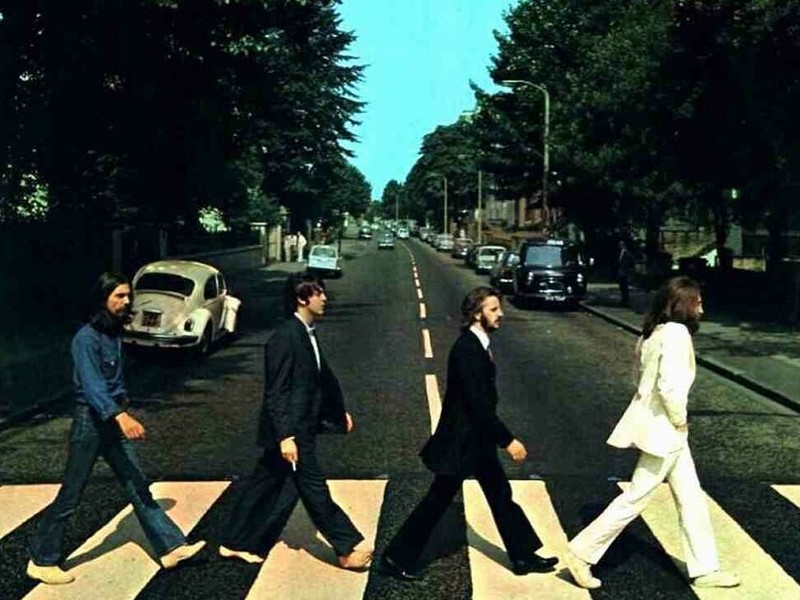 ---
3. John Lennon Ripped Off Chuck Berry on 'Come Together'
---
In 1973, John Lennon was sued in light of the fact that the opening line of "Come Together" was fundamentally the same as a line from Chuck Berry's "You Can't Catch Me." The out-of-court settlement constrained Lennon to three songs possessed by publisher Morris Levy. Those tracks turned into the driving force for Lennon's 1975 cover album 'Rock 'n' Roll.'
---
4. Everybody Agreed that 'Something' Was the Best Song on the Album
---
For all the internal quarreling inside the group at the time, throughout the years they all – including George Martin – said that George Harrison's ballad was Abbey Road's most enjoyable song. They weren't the main ones who felt the same. Frank Sinatra recorded it twice,  calling it "the greatest love song of the past 50 years." But, for a long time, Sinatra had mistakenly said it was a Lennon-McCartney masterpiece. "Something" only happens to be Harrison song to be the A-side of a Beatles single.
---
5. Everybody But Paul Hated 'Maxwell's Silver Hammer'
---
'Maxwell's Silver Hammer' was originally attempted in 'Let It Be,' McCartney taken action to brought it back to their next album. Harrison called it "fruity," but Ringo Starr was way ahead of him, calling it, "the worst track we ever had to record," adding that the few days it took to record "went on for f—ing weeks." But, of course, McCartney loved the song and defended it by stating it was "just a silly story" that "epitomizes the downfalls of life. Just when everything is going smoothly — bang! bang! — down comes Maxwell's silver hammer and ruins everything."
---
6. It Took McCartney a Week to Record the Vocals on 'Oh! Darling'
---
From July 17-23, 1969, Paul would come 30 minutes early in the studio, to record at the vocals on 'Oh! Darling' before everyone else got there. His reason was:  "I wanted it to sound as though I'd been performing it onstage all week."
---
7. John Didn't Like the Idea of the Medley
---
McCartney and Martin had come to an agreement about the idea of a medley of some unfinished ideas. But Lennon, on the other hand, would disagree to this, and simply wanted a "traditional, unconnected album." At some point, the supposed idea was to include John's songs on one side and Paul's on the other, but Lennon eventually agreed and contributed  'Sun King,' 'Mean Mr. Mustard' and 'Polythene Pam' to the medley.
---
8. Paul Did Some Lyric Appropriation of His Own on 'Golden Slumbers'
---
McCartney once saw a piano book that contained a poem by 16th-century English playwright Thomas Dekker when he visited his father. McCartney then changed a some of the words, created his own melody to it and worked it into an existing song he had. The original begins, "Golden slumbers kiss your eyes / Smiles awake you when you rise / Sleep, pretty wantons, do not cry / And I will sing a lullaby."
---
9. Ringo Had to Be Convinced to Play a Drum Solo on 'The End'
---
Ringo Starr, as we know him, never attempted to record a drum solo. Well, for a reason, it was likely their last record, so he agreed to play the 15-second drum break on 'The End' after much prodding. Afterward, the three-guitar forceful solo follows, with Paul, George, and John (in the specific order) each taking two bars, everything was recorded live in a single take.
---
10. 'Her Majesty' Became A Hidden Track by Accident.
---
After doing a rough mix of the medley, 'Her Majesty' was originally tucked in between 'Mean Mr. Mustard' and 'Polythene Pam.' But McCartney, a personal critic of their own work didn't like the song and had it removed. But their sound engineer, John Kurlander, having been told not to waste anything, insert it 20 seconds after the song 'The End.' McCartney, after hearing it, he realized that he liked the way it worked in that context, and it remained.