Here's Our Review…
After almost a decade of waiting, the long-awaited Mötley Crüe biopic 'The Dirt' has finally been made into a movie and premiered exclusively on Netflix this past Friday, March 22. The movie is based off of 'The Dirt: Confessions of the World's Most Notorious Rock Band', a collaborative autobiography written by Tommy Lee, Vince Neil, Nikki Sixx, Mick Mars, and Neil Strauss.
'The Dirt' was a passion project for director Jeff Tremaine. He's been trying to make this movie for almost 10 years, but to no avail due to fall outs with studios and actors etc. Nevertheless, Tremaine finally struck gold with Netflix and an incredible cast of actors. So now that this film has finally premiered, here's what we think…
DISCLAIMER: We're not gonna go into detail about how accurate or not accurate the film is. It was 108 minutes long, and to try and cover the band's ENTIRE history in that short of time is impossible. Besides, and I hate to break it to you, no rock biopic in the world is 100% accurate. Anyway, on with the review!
Humor & Chaos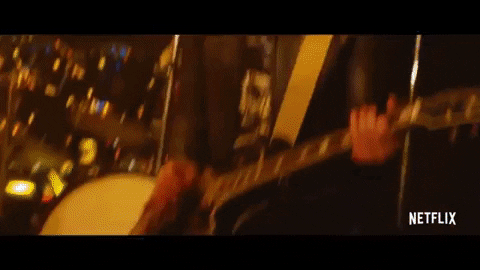 This movie wastes absolutely NO time getting into all of the debauchery. The opening scene of this film takes place at a wild house party with tons of guests and groupies with each member of the band introducing themselves as their own narrator. And, we won't spoil anything, but we'll just say that this particular scene involves Tommy Lee and a lady-friend he's very fond of… doing something. Watch the movie to find out what that is.
As mentioned, each actor playing a band member takes part in narrating parts of the film. Machine Gun Kelly narrates all of Tommy Lee's parts, Douglass Booth narrates all of Nikki Sixx's parts, Daniel Webber narrates all of Vince Neil's parts, and Iwan Rheon narrates all of Mick Mars' parts. The film does a great job of switching members' perspectives. Nikki's and Vince's being the more grounded and serious ones, Tommy's being the rambunctious and youthful one, and Mick's being the vulgar and impatient one.
In my opinion, Mick (Iwan Rheon) was actually the funniest one of the entire movie. His back-handed, profanity-laced insults were often unexpected and hilarious.
Debauchery Galore…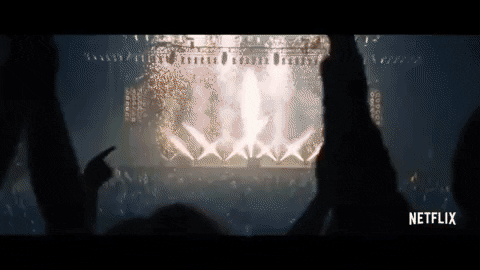 Now, obviously, like I said before, they can't fit every single detail into the film that they want, but yes, there is more than enough debauchery, nudity, drugs, fighting, and crudeness in this film to go around, so VEIWER DISCRETION IS ADVISED. Parents, don't let your kids watch this. Or do, I don't care.
With that said though, it's not like they show the SUPER graphic details… Except for that one opening scene with Tommy Lee. Again, see the movie, because I'm not describing it here. But yes, there's lots and lots of sex scenes and even more drug-use scenes. It's what happened in real life, so why not put it in the film?
That Other Scene…
Towards the last half of the movie, it takes a sharp left turn from funny to to extremely sad upon entering the chapter of of Vince Neil's daughter Skylar. It was no secret that this part of the autobiography was to be expected in the film, but that still doesn't mean that any of us were ready for it. To put it simply, they did this part right. Daniel Webber and Kamryn Ragsdale (Skylar) will absolutely shatter your heart into a million pieces.
I cried. And I don't cry. That's all I say.
MGK Haters Be Gone!
One of the biggest criticisms heading into the film was the decision to cast rapper Machine Gun Kelly (Colson Baker) as drummer Tommy Lee. With a rather short filmography, fans and critics were extremely apprehensive about the idea of MGK's role in the film.
However, I'm happy to report that he did a PHENOMENAL job of portraying Tommy Lee. He not only looked the part, but he had his mannerisms and drumming style down to a 'T'! Not only this, but it proved that MGK has some truly amazing acting chops. It's no wonder he was cast as Lee.
FUN FACT: MGK originally auditioned for the role of Nikki Sixx. He was harshly rejected for that role, but once the band saw him, they agreed that he would be perfect for the role of Tommy Lee.
Who Is The MVP?
Everyone did a stellar job in this film if you ask me. Not just the actors playing the roles of the band members, but all of the other people as well, but we do have to recognize who definitely did the best acting job conveying humor and sadness, which is what this movie is all about, and for my money, that's hands-down Daniel Webber portraying Vince Neil.
Daniel does an incredible job switching between rambunctious rockstar to mourning father at the drop of the hat and without a doubt came off as the most genuine, which is what is required when playing arguably the most complex role of the movie.
So Was It Good or Bad?
In my humblest of opinions, the movie was fantastic. Sure, there was a lot omitted from it. If it were done as a mini-series, there probably could've been more facts and details throughout it, but nevertheless, 'The Dirt' was funny, sad, insightful, and just plain fun through and through. It's an incredibly unique take on a rock-biopic.
So in conclusion, I recommend that you get yourself a Netflix subscription and check this movie out, you WON'T be disappointed!