Bass Goddess
The actual Detroit city rocker is known as the "Golden Girl" of the bass- and that's an understatement. Suzi Quatro trail-blazed an entire path for female rock legends like Heart and The Runaways. Though numerous talented women have shined in the history of rock before and after Quatro's debut into the music world- the iconic bassist made a definitive and specific indent in the genre.
Suzi Quatro started out in the late 1960's Detroit rock scene. After playing percussion in her father's jazz band, she helped form the girl group Pleasure Seekers, then Cradle. Entering the 1970s, she refused her record label's advice to become the next Janis Joplin and started jamming as hard as she could in England.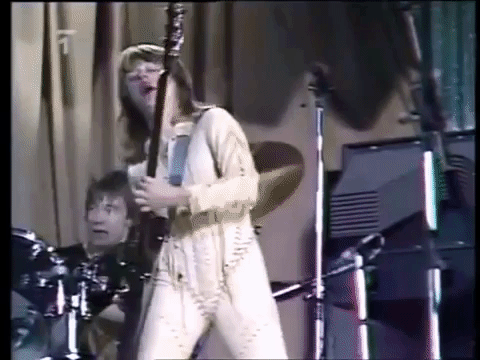 She Has A Point
Not only is Suzi Quatro a beauty inside and out- she's a bass powerhouse. The ultra-talented badass inspired the biggest female punk/rock legends we have ever known… so where is her recognition. Quatro is tired of holding back and she keeps it waaay real with Billboard…
"(Jett) deserves to be in — she's an excellent artist — but it's disgusting that I'm not. I'm a real stickler for the truth, and I'm pissed off that history is being rewritten. I was first, right? I was there before anybody else had a twinkle in their eye — that's a fact of life."
Joan Jett is notably one of Suzi Quatro's biggest fans, if not the biggest. The equally talented female rock goddess was inducted into the Rock and Roll Hall of Fame in 2015.  Quatro continued to contextualize, "I've been very polite about it for many years, and now I don't want to be polite anymore. It doesn't make sense. The truth is the truth, history is history, the timeline is the timeline. I need to be in that Rock and Roll Hall of Fame."
Despite the injustice, Suzi Quatro continues to feed her passion and make new music. We are all excited for her new album to be released on March 29th, No Control.  An honest documentary about her trailblazing journey will be released this year, and her Red Hot Summer Tour has Australia dates for February and March. You go girl!